How to check the software architecture
How to check someone's call history online
Diving into call history is the best way to keep track of things like who the other person is contacting and how often. This used to be a migraine, but not anymore. This article will teach you how to check someone's call history online without them being ignorant of it.
How can I check someone's call history online?
Typically, to review someone's call history, you need to access their phone and get into the Call Logs section. Now it could be password protected or not easily accessible due to the distance. They might suspect and confront you to make things worse.
Call history also changes every second, making it virtually impossible to keep accessing other people's phones.
To avoid it all, you need a remote call log spying solution that could get your call logs and contacts dynamically. Just read aloud for 30 seconds and you will know your best bet for it.
Also Read: How To Clone A Phone
Part 1: How to Track Someone's Call History Online
If you are looking for the most workable way to keep track of someone's call history for free, use Spyier. Let us tell you why it is your solution and how to get started.
Spyier - The perfect solution for all of your call history tracking quests
Spyier is the ideal blend of human acumen and AI that made things possible that were never dreamed of before. Nobody ever thought that tracking someone's call history was possible. But with Spyier it is not only possible, it is 100% discreet and risk-free.
With more than 30 phone monitoring functions, Spyier has a large customer base in more than 190 countries. The solution can track real-time call history from iOS and Android devices.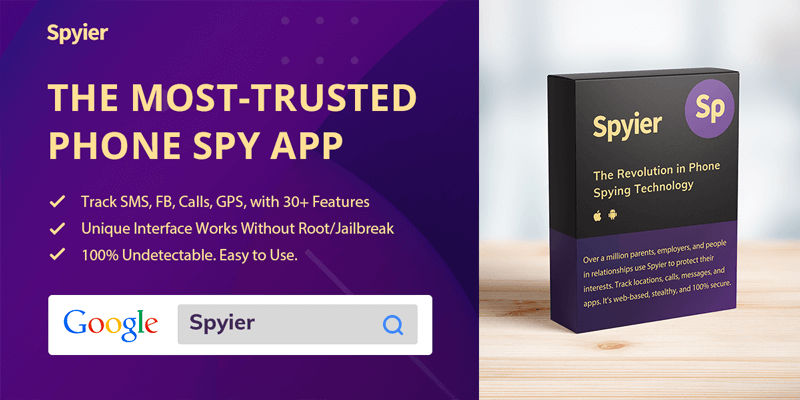 How can you use Spyier to check an iPhone's call history without them knowing?
Spyier's iOS solution is 100 web-based, does not require jailbreak and can work remotely. Unlike other call history tracking tools, it doesn't require any installation to track call history on iPhone. A simple free account login from any browser / device is good enough.
Call tracking aid only requires the use of iCloud credentials. Using credentials, Spyier regularly retrieves data from the device's backup file. This allows you to view call logs and related details of your destinations without them being aware of it.
How Spyier Can You Check Android Phone Call History Without Them Knowing?
Just as it focuses on ease and privacy for call history monitoring for iOS, it works well for the Android platform too. However, you need one-time access to your target's device for less than 5 minutes to install the Spyier app.
Note: Android's operating system design does not allow monitoring of the phone's call logs without installing the app. Avoid the scam innovators who promise to track your target's phone without an app. You will have problems with the device's data invite or lose money.
The Spyier for Android is ultra-light and comes with a super handy user interface. Its size is less than 3MB and it drains the least amount of battery. Thanks to its high-end technology, you don't need to do rooting of the target's Android phone.
You can hide the app icon and the app will run in stealth mode. Remote uninstallation of the Spyier Android app is also allowed. Can it be better and less excited? We doubt big time.
This kind of straightforward call history tracking is only possible with Spyier. It will never get you. Here's how your target's call log will be shown when viewing it through Spyier Solution -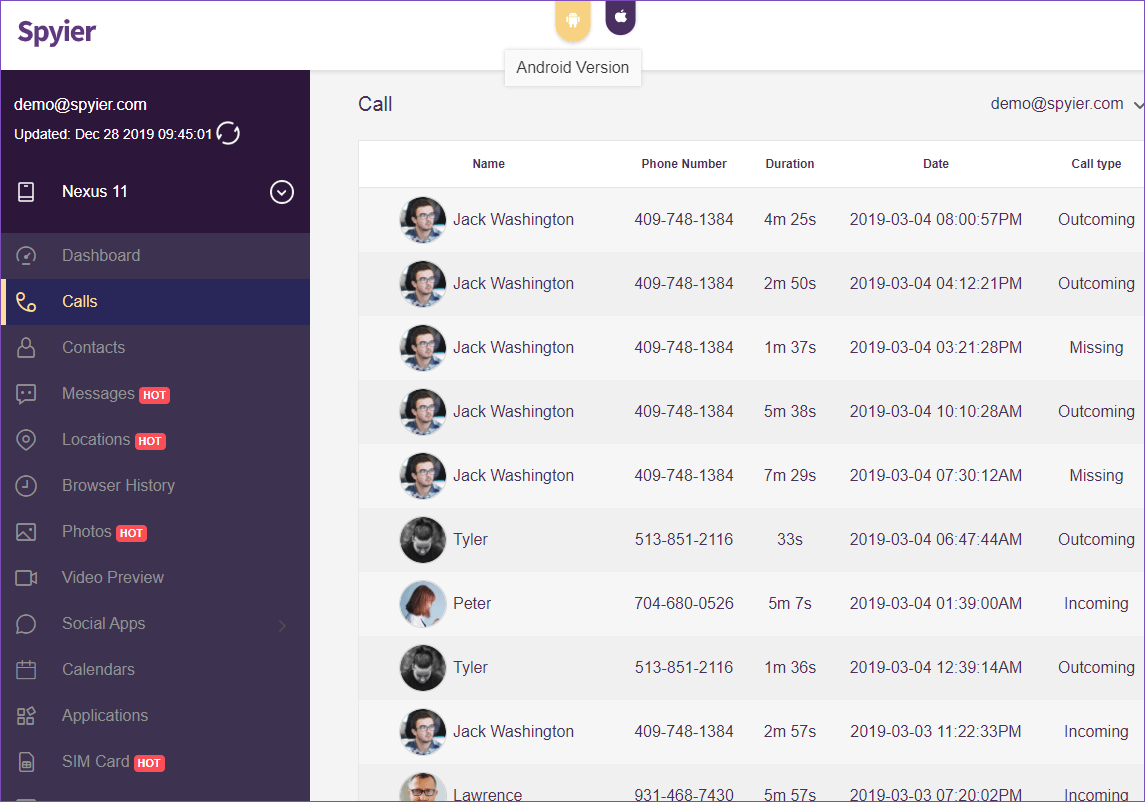 Is she trustworthy?
Completely! In a world full of cyber fraud and phishing, Spyier makes sure that none of your data should be disclosed elsewhere. A user's data is not stored on his server.
We recommend checking out the free live demo here if you already like the solution.
How to track someone's call history without them knowing
As reported in the previous section, Spyier is your lone savior here. It allows you to monitor call logs, contacts, and a dozen more things once at work. Now is the time to find out how to check someone's call history online with Spyier?
Step 1 - Create your Spyier Account for Free
Register for a Spyier account with your valid email ID and password.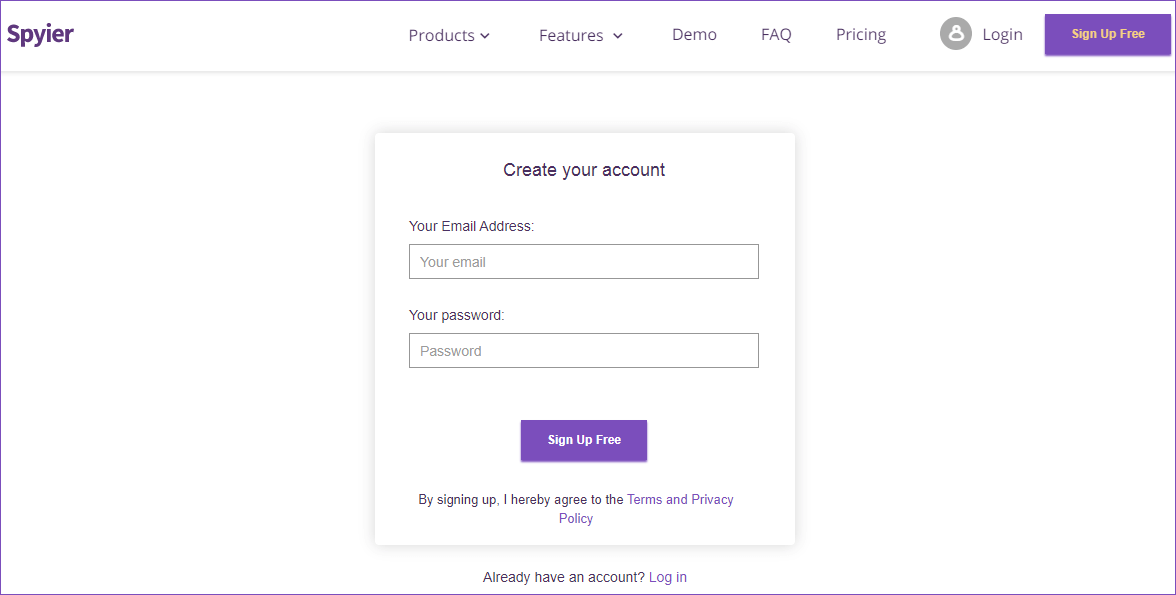 Step 2 - A quick Spyier account activation
Enter the target device type and select a plan. Once you finish everything, you will be directed to the Spyier control panel.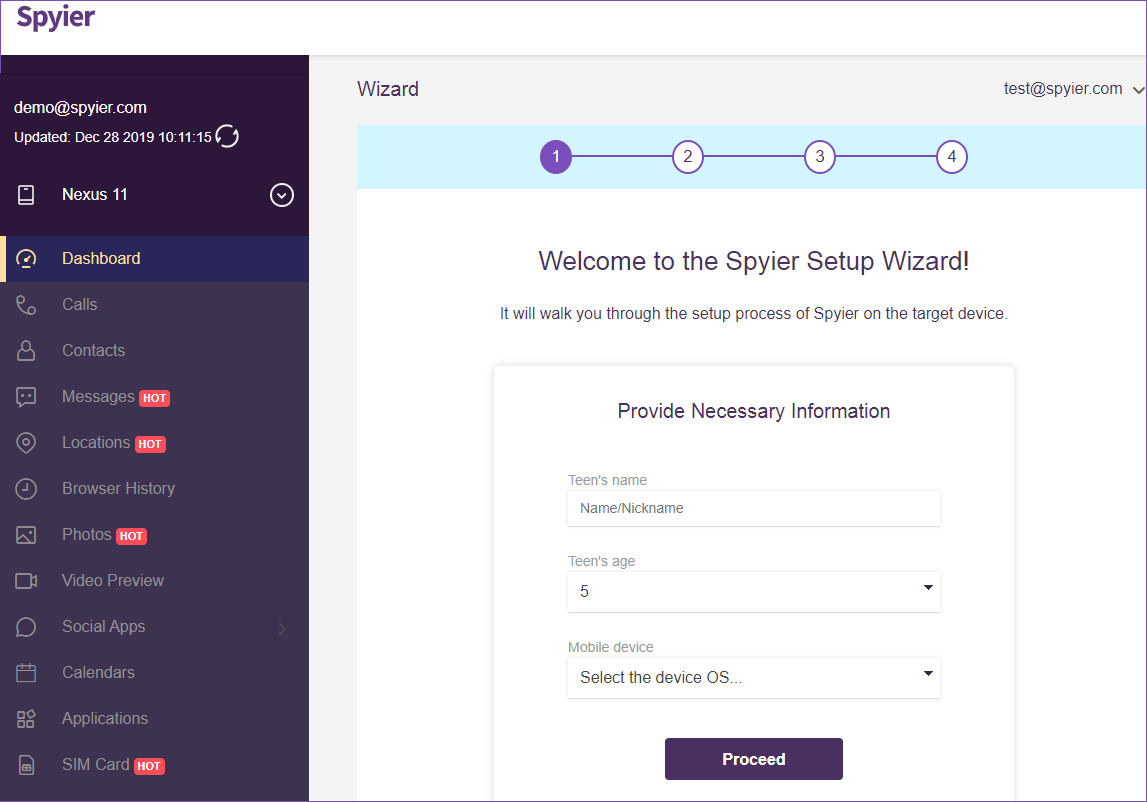 step 3 – Get Spyier up and running
Ⅰ. To keep track of someone's call history online while using an iOS device
Use the link in the email that Spyier sent you after you signed up. You will be taken to a webpage where you can fill in and review your iCloud credentials. Choose the iOS device to be tracked and it's configured!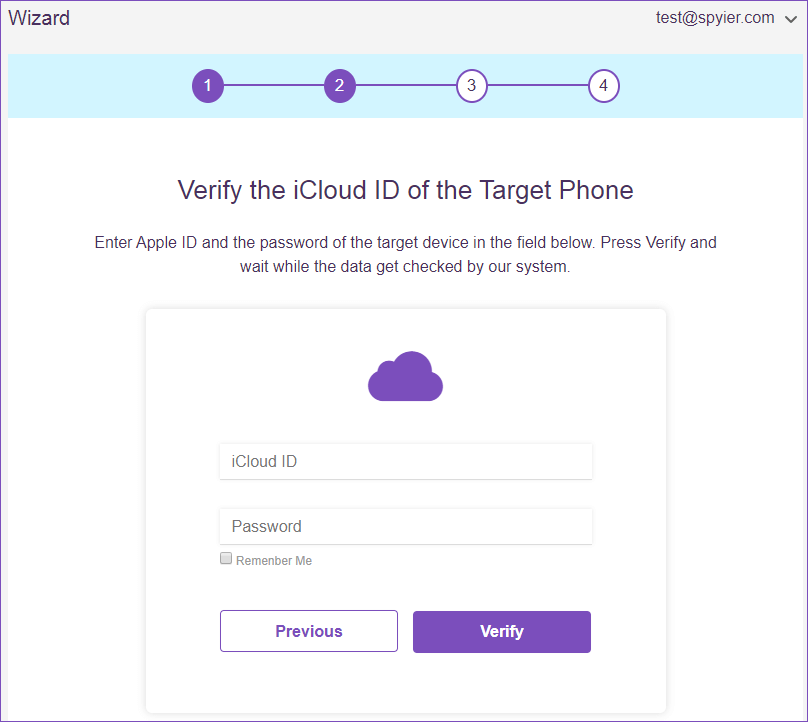 Ⅱ. To keep track of someone's call history online while using an Android device
Follow the Android app installation guide to prepare the target's phone for app installation and to change the settings according to this guide. Then copy the link of the app from the setup wizard (in the Spyier account) and install the app.
Configure the app and you can now keep track of your target's phone call history.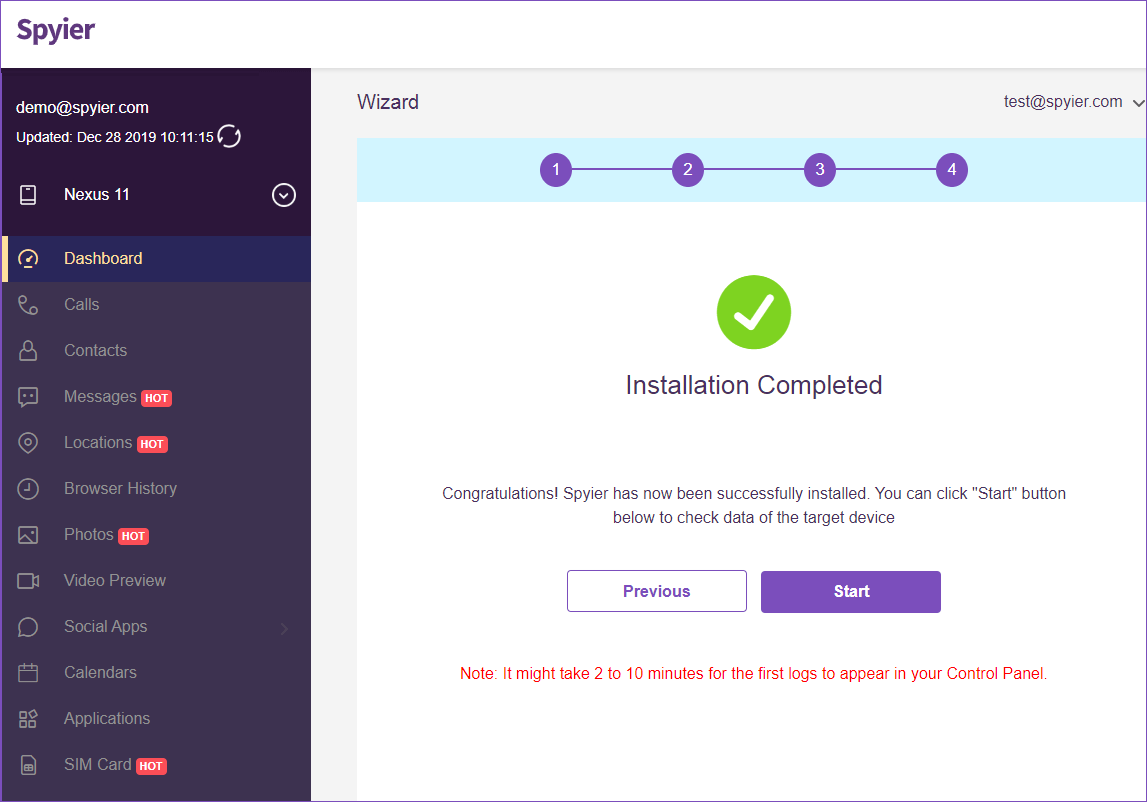 Step 4: Track Call History
Now that you've configured the solution well (with the appropriate installation guide), go back to your Spyier account. Do it with any browser on your device as the target's device is no longer needed.
You need to be able to see your target device's data on the dashboard now.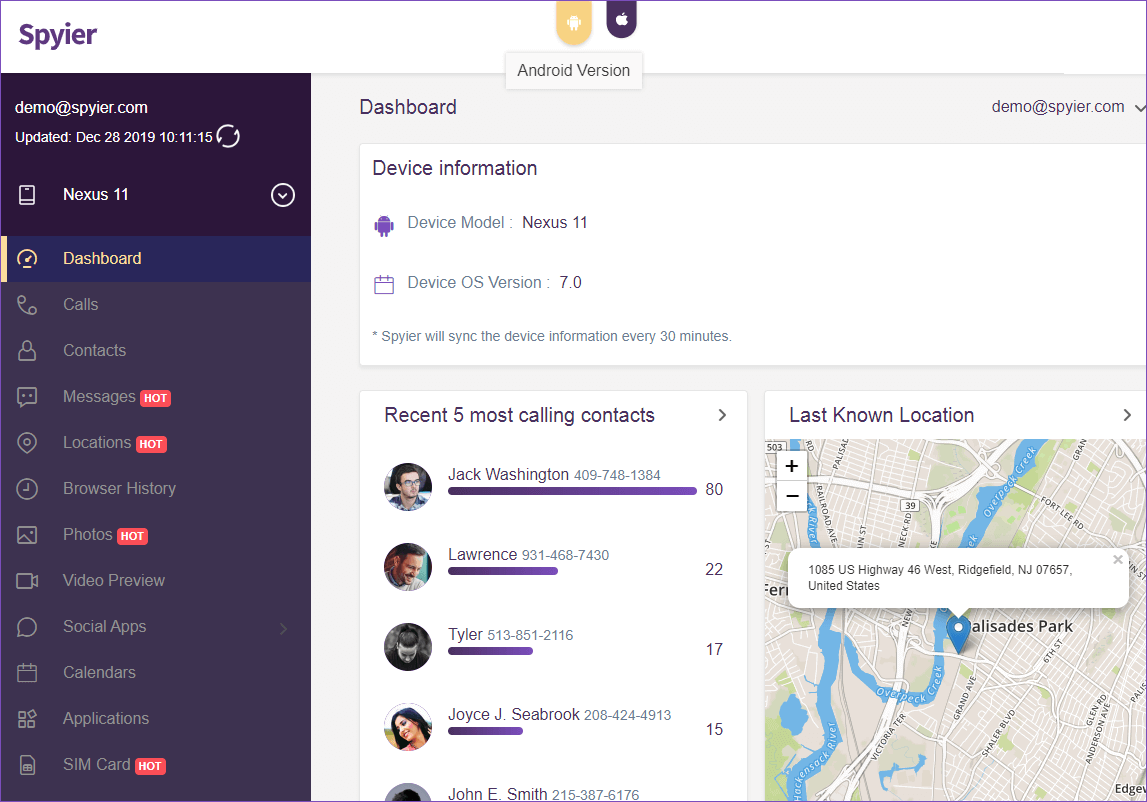 Navigate to the section Calls, as entered on the left side of the dashboard. This simple step makes your target phone's call history available to you.
Check out the free live demo of Spyier's Android solution using this link.
For the users ready to track iOS devices, this free demo link will explain things better.
The last word
Spyier's call history tracking tool is a boon in disguise as it lets you operate from a remote location without actually being trapped. So next time you need to track someone's call history, just log in and start using them.
Attention: This post talks about how to track call history online without actually getting caught and fouling any law. This post should only be used for educational purposes and we are big supporters of only actions offered by law.
This post is also available in: Deutsch (German) Español (Spanish)